MAGICIAN FOR HIRE IN BLACKBURN



Professional Magician Pete Turner has the confidence to deliver what you're looking in a magician. His Art of Magic skills is performed at a very high standard, it is also entertaining along with an element of natural humour. Mister Ree always wears his sleeves up as he performs his magic, making his magic more mystifying and magical.
Mister Ree has a nice presence about him; he makes you feel relaxed, comfortable as he performs his magic. Pete's brand of magic will generate conversation or debate which creates that nice little buzz with a nice tempo atmosphere at your event or special occasion in the Blackburn & Darwin area.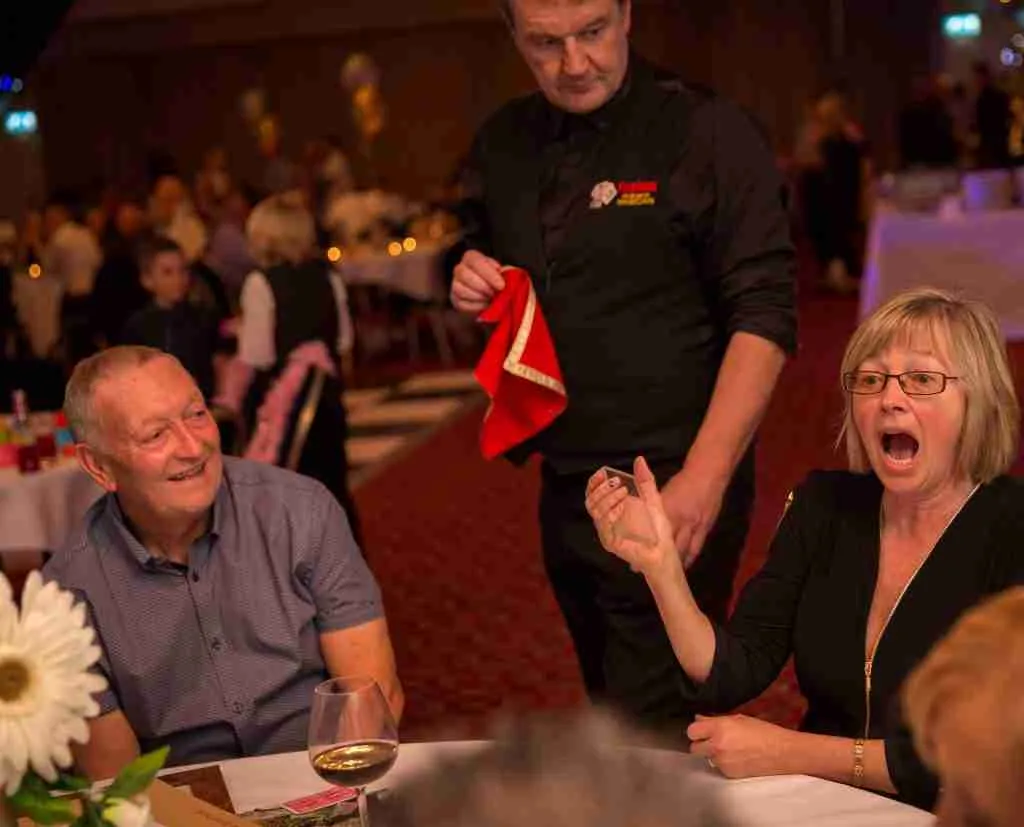 MAGICIAN FOR HIRE IN BLACKBURN
CONFIDENCE TO DELIVER TOP QUALITY MAGIC AT YOUR SPECIAL OCCASION OR EVENT

Have a look into the Gallery and see the punters reaction from Mister Ree brand of magic. The images in the gallery show magician Pete Turner at all kind of events and occasions, spanning over the last decade. They say a face can paint 1000 words.
Hire Pete as your magician in the Blackburn area.
Pete has worked at all kind of venues in the Blackburn & surrounding areas such as
Ewood Park (Blackburn Football Club)
Foxfields Country Hotel, Blackburn
Mercure Blackburn
Dunkenhalgh Hotel & Spa, Blackburn
Stanley House, Blackburn
The Olde England Kiosk, Darwin
We love to hear how the magic made you feel !
Have a listen to the feedback for Cheshire magician Pete Turner who travels up and down the UK entertaining guests.
"Pete's skills & professionalism really shone at our Wedding. He shows humour and charm in his delivery, making his magic more entertaining."
"Pete, you were awesome. You went above and beyond for us at our Wedding and all our guests were blown away."
"Pete did my daughter's milestone birthday event proud; all my guests enjoyed his amazing magic."
"Pete Turner was great at our wedding. He took the pressure and the worry from us by looking after our guests with his amazing magic."