MAGICIAN FOR HIRE IN BRADFORD



Close up magician Pete Turner performs all kind of magic to give that variation. He performs anything from classic card magic that is so addictive to close up illusions that goes again logic. His brand of magic is perfect for adults, tamed down for children and ideal for family entertainment. Pete's brand of magic has been the perfect formula to suit the nature of your special occasion or your celebration party. It works, that is why Mister Ree has been a successful magician for the last 26 years or so.
What makes Pete's magic so mysterious that he always wears his sleeves up. He has nothing to hide, there is no evidence of scepticism, and he has the power to perform his magic that is so mind blowing. People have been left speechless and amazed that the impossible can happen in a logical world.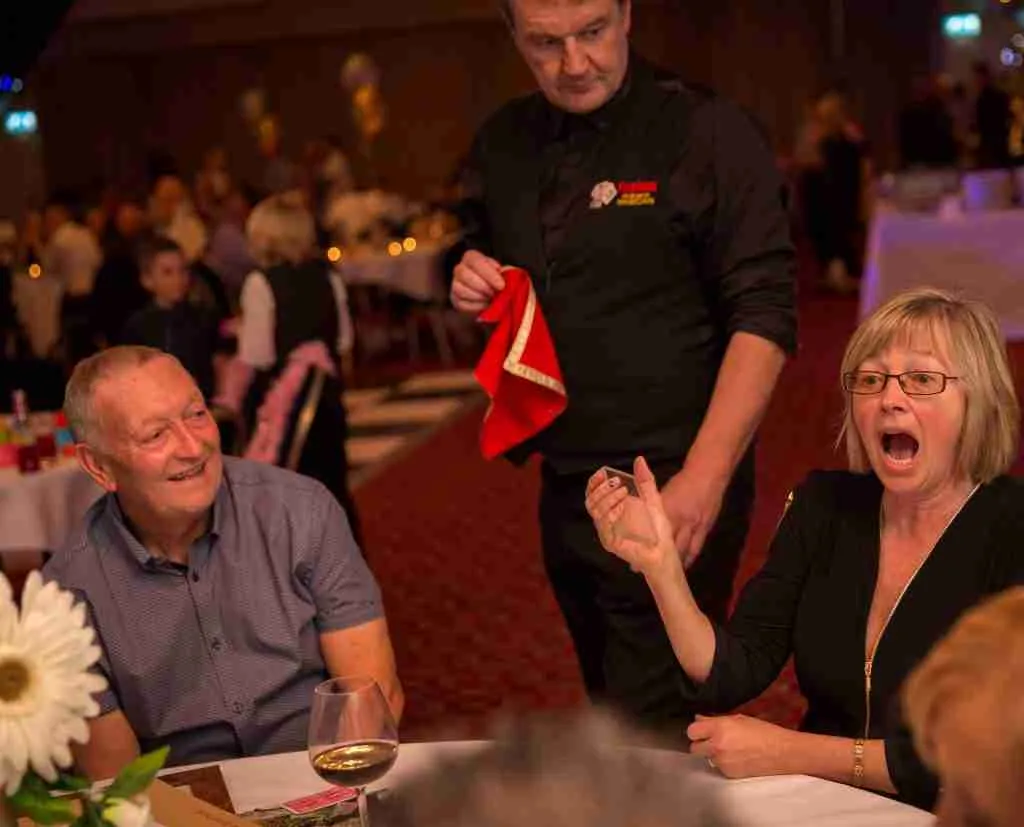 MAGICIAN FOR HIRE IN BRADFORD
CONFIDENCE TO DELIVER TOP QUALITY MAGIC AT YOUR SPECIAL OCCASION OR EVENT

If you book MISTER REE has your magician for your party, you'll get 26 years of experience through the door. His professionalism in the art of magic will make your event memorable. You only have to look upon the gallery to see for yourself the reaction that The Foxx has left his punters in amazement. Pete has the confidence to deliver a top quality service and a magical experience. He is only a phone call away. Call 07906 326377…..but don't be disappointed if he has been booked on your date, he is a busy magician.
Hire Pete as your magician in the Bradford area

We love to hear how the magic made you feel !
Have a listen to the feedback for Cheshire magician Pete Turner who travels up and down the UK entertaining guests.
"Pete's skills & professionalism really shone at our Wedding. He shows humour and charm in his delivery, making his magic more entertaining."
"Pete did my daughter's milestone birthday event proud; all my guests enjoyed his amazing magic."
"Pete Turner was great at our wedding. He took the pressure and the worry from us by looking after our guests with his amazing magic."
"Pete, you were awesome. You went above and beyond for us at our Wedding and all our guests were blown away."