MAGICIAN FOR HIRE IN CUMBRIA



MISTER REE performs his brand of magic to the highest level. He always wears his sleeves up to make is magic more mystical and he has the personality to deliver his art. Pete also has people management skills to get on with all kinds of characters. He knows his audience and he will work to the tempo to the nature of your event, giving that nice little atmosphere. The Foxx loves his magic, therefore he brings his passion to your event that will make his magic shine.
Whether you're getting married or celebrating a birthday with a zero in it or simply having a house/garden party, Pete can tailor his brand of magic to suit any environment. The Foxx also can perform stage magic; he has a great magic production which has gone down well on Cruise liners. Pete can down size his magic shows for homes or to smaller audiences to suit.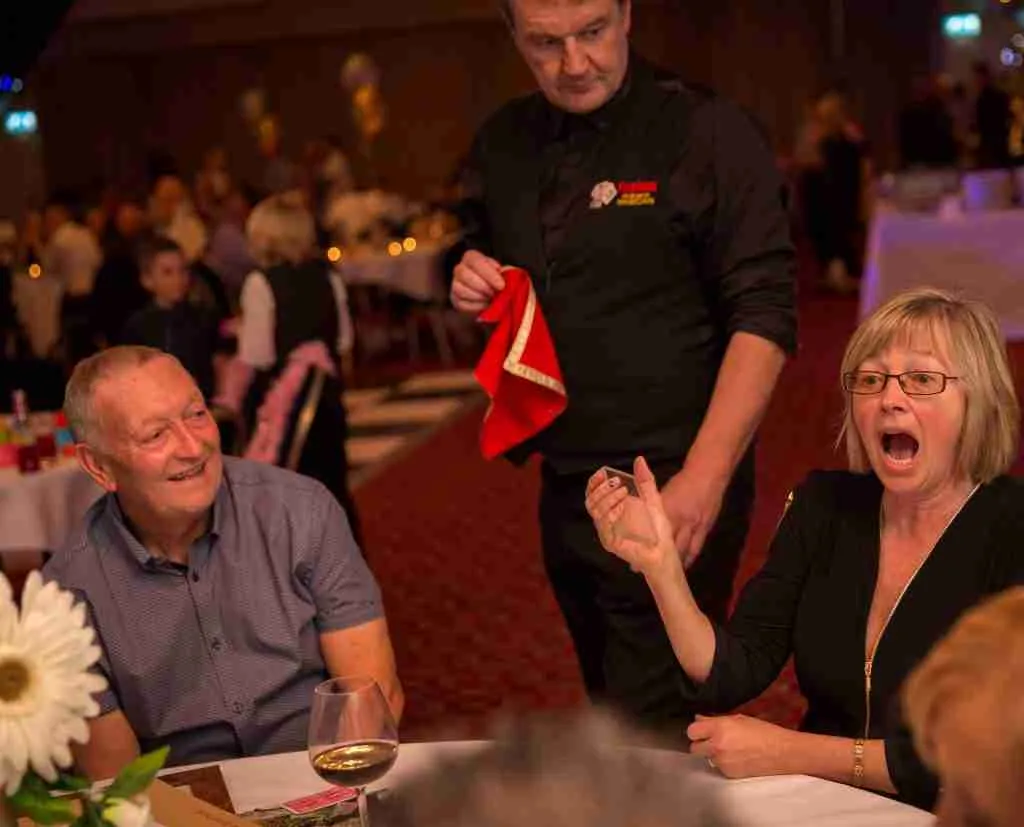 MAGICIAN FOR HIRE IN CUMBRIA
CONFIDENCE TO DELIVER TOP QUALITY MAGIC AT YOUR SPECIAL OCCASION OR EVENT

If you do book Mister Ree as your magician, he will definitely do you proud, he knows what he is doing and he will go to your event or special occasion in a professional manner. If you look upon the gallery, you can see the joy on the faces of his punters..Priceless.
Hire Pete as your magician in the Cumbria area.
Pete has worked at all kind of venues in the Cumbria & Lake District areas such as
The Terrace (Windermere)
Daffodil Hotel (Grasmere)
The Ryebeck (Windermere)
The Fox Inn (Ously)
Shepphard Inn (Carlisle)
The Nuclear Institute (Workington)
Plus many more venues in the Cumbria & surrounding areas
We love to hear how the magic made you feel !
Have a listen to the feedback for Cheshire magician Pete Turner who travels up and down the UK entertaining guests.
"Pete Turner was great at our wedding. He took the pressure and the worry from us by looking after our guests with his amazing magic."
"Pete's skills & professionalism really shone at our Wedding. He shows humour and charm in his delivery, making his magic more entertaining."
"Pete, you were awesome. You went above and beyond for us at our Wedding and all our guests were blown away."
"Pete did my daughter's milestone birthday event proud; all my guests enjoyed his amazing magic."