Magician for hire in Macclesfield
Top quality Magic for all occasions. Magician for hire in Macclesfield
MAGICIAN FOR HIRE IN MACCLESFIELD



Mister Ree has charisma to add to his quality of magic, his quick wit personality is quite sharp, where he uses natural humour in his performance. Pete knows how to use magic at your event to create that nice buzz and to ignite the perfect tempo atmosphere that will make your special occasion memorable. Just have a little look upon the gallery to see the reaction that Mister Ree has left his punters. A face paints a thousand words.
Whether you're looking open a magician who can work the tables or simple mix n mingle, Mister Ree can accommodate any kind of environment to the nature of your event. Pete has the experience to approach your party in a professional manner, he will way up your event as he arrives and use the kind of magic that will make your event a success. He know what he is doing, trust the experience Pete has behind him, and will do you proud without worrying about your guests.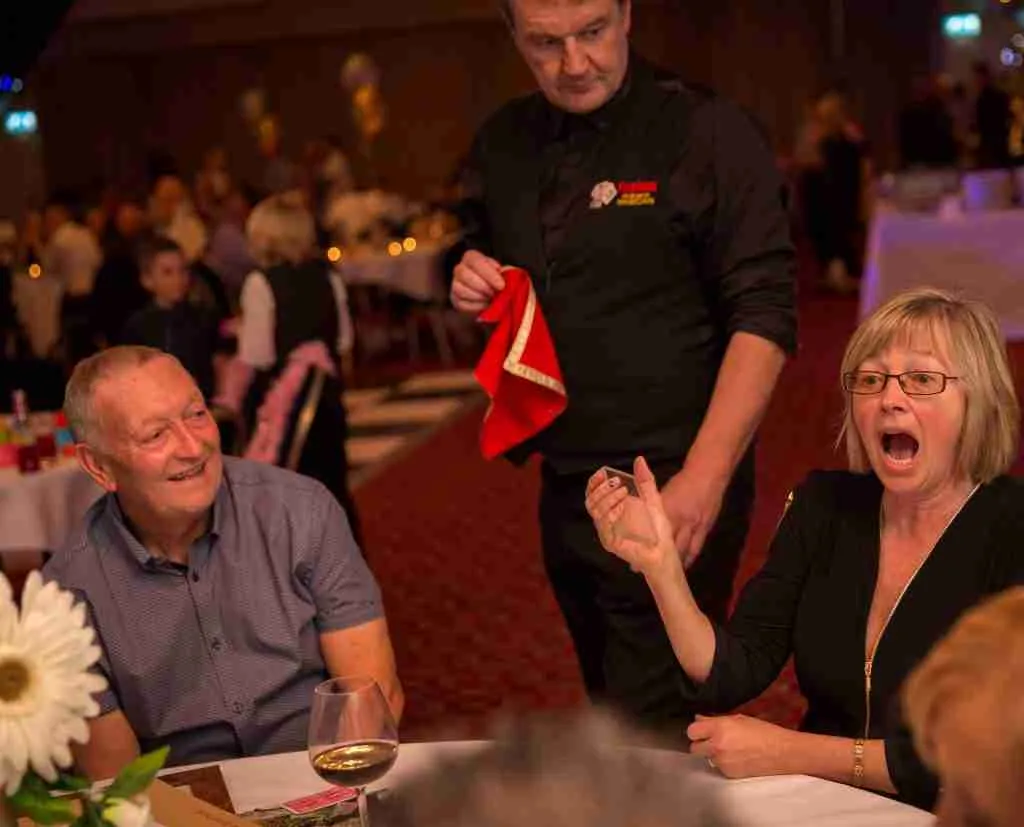 MAGICIAN FOR HIRE IN MACCLESFIELD
CONFIDENCE TO DELIVER TOP QUALITY MAGIC AT YOUR SPECIAL OCCASION OR EVENT

Close up magician has other qualities in the field of magic, if your party or event requires a stage entertainer; Mister Ree performs a quality magic production that is ideal for your event. His showmanship on the stage is worth watching. Pete also has a After Dinner Speaker service if your event more formal.
Hire Pete as your magician in the Macclesfield area
We love to hear how the magic made you feel !
Have a listen to the feedback for Cheshire magician Pete Turner who travels up and down the UK entertaining guests.
"Pete, you were awesome. You went above and beyond for us at our Wedding and all our guests were blown away."
"Pete did my daughter's milestone birthday event proud; all my guests enjoyed his amazing magic."
"Pete's skills & professionalism really shone at our Wedding. He shows humour and charm in his delivery, making his magic more entertaining."
"Pete Turner was great at our wedding. He took the pressure and the worry from us by looking after our guests with his amazing magic."