MAGICIAN FOR HIRE IN PRESTON



Close up Magician Pete Turner has the experience to approach your event in a professional manner. His people's management skills are first class, making way for the magic to shine. Pete's delivery catches the attention to his guests, making his magic very entertaining. He knows how to approach guests in a drinking environment, deal with the sceptics, cope with the banter and let his skills in magic do all the talking in the Preston areas.
Just by looking at the Gallery you can see the natural reaction from Pete's magic. Each reaction paints a thousand words. In the gallery, you will see images of events that Professional Magician Pete Turner has performed, which has spanned into 26 years.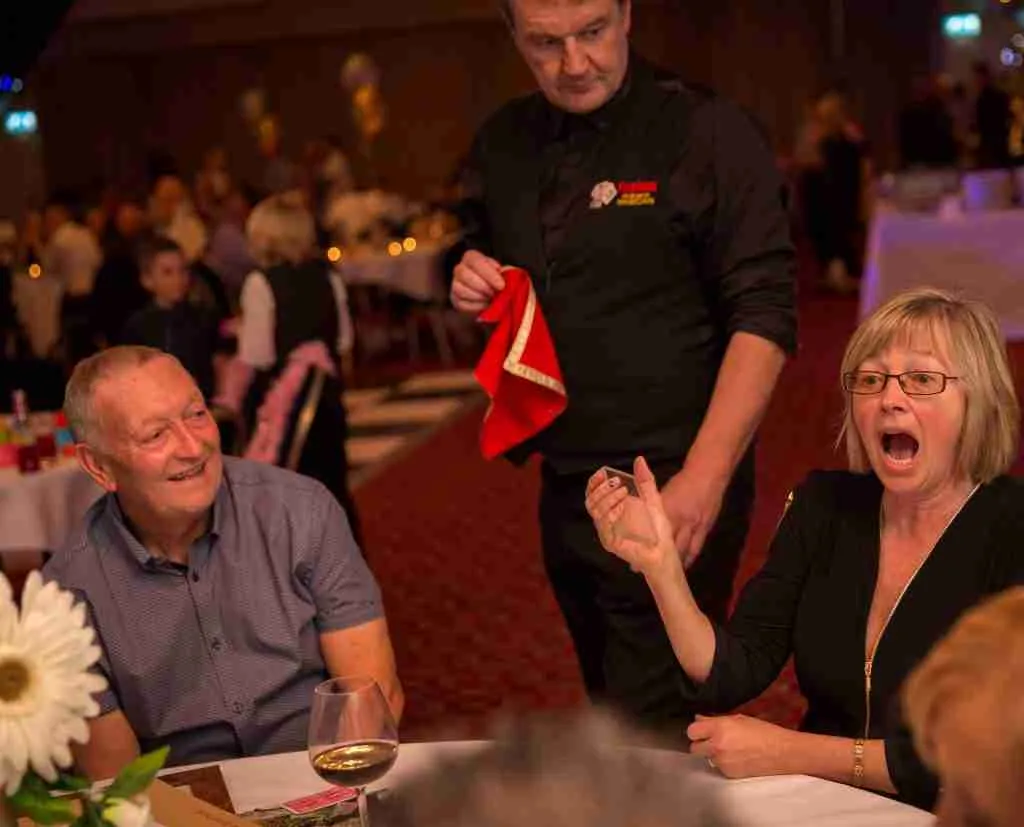 MAGICIAN FOR HIRE IN PRESTON
CONFIDENCE TO DELIVER TOP QUALITY MAGIC AT YOUR SPECIAL OCCASION OR EVENT

Mister Ree has his own brand of magic that suits all kind of events. He uses the right material to blend in with the nature of your event. Whether you're getting married, or having a birthday or having a corporate event for your business, Pete will know what material to perform to make your event.
Hire Pete as your magician in the Preston area.
Pete has worked at all kind of venues in the Preston & Leyland area such as
Aveham and Miller Parks
Preston Marriott Hotel
The Gibbon Bridge in Chipping
Ferrari's Country Hotel, Longbridge Nr Preston
Farrington House, Leyland
Preston NE
We love to hear how the magic made you feel !
Have a listen to the feedback for Cheshire magician Pete Turner who travels up and down the UK entertaining guests.
"Pete did my daughter's milestone birthday event proud; all my guests enjoyed his amazing magic."
"Pete's skills & professionalism really shone at our Wedding. He shows humour and charm in his delivery, making his magic more entertaining."
"Pete Turner was great at our wedding. He took the pressure and the worry from us by looking after our guests with his amazing magic."
"Pete, you were awesome. You went above and beyond for us at our Wedding and all our guests were blown away."