Magician for hire in Warrington
Top quality Magic for all occasions. Magician for hire in Warrington
MAGICIAN FOR HIRE IN WARRINGTON



Magician Peter Turner brand of magic is unique and ideal for your occasion in the Warrington area. His skills has a magician will convince your guest that there is more to 'The Art of Magic'. Close up Magician Pete Turner has a good personality that will make people feel relaxed in his company, he is a character and definitely has a personality.
There is a saying 'A face can paint a thousand words' Have a look at the Gallery the images where Pete's punters are memorised and intrigued with his amazing art of Magic. Your guests will experience the impossible right in front of their eyes, making your special occasion in Warrington memorable and a success.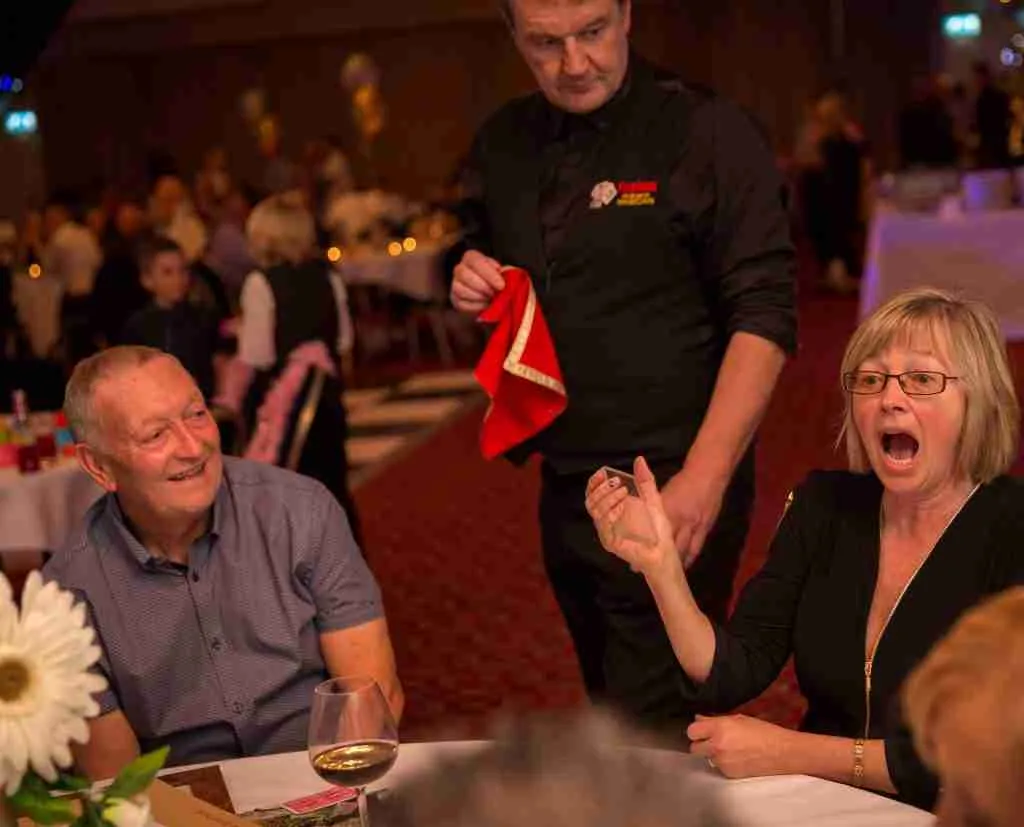 MAGICIAN FOR HIRE IN WARRINGTON
CONFIDENCE TO DELIVER TOP QUALITY MAGIC AT YOUR SPECIAL OCCASION OR EVENT

Pete the magician's magic is a mix bag of all kind of magic to suit your guests. Pete performs close up illusions, classic card magic where a deck of cards will disappear right in front of your eyes, coin magic will you will experience pennies bend in the palm of your hand, mental magic plus many more magical capers in the Warrington area.
Hire Pete as your magician in the Warrington area.
Hire Pete as your magician in the Warrington area.
Parr Hall
Halliwell Stadium
Daresbury Hotel
The Fir grove
Walton Hall
Warrington Hospital
Masonic Hall
plus many other venues in the Warrington & surrounding areas
We love to hear how the magic made you feel !
Have a listen to the feedback for Cheshire magician Pete Turner who travels up and down the UK entertaining guests.
"Pete Turner was great at our wedding. He took the pressure and the worry from us by looking after our guests with his amazing magic."
"Pete did my daughter's milestone birthday event proud; all my guests enjoyed his amazing magic."
"Pete's skills & professionalism really shone at our Wedding. He shows humour and charm in his delivery, making his magic more entertaining."
"Pete, you were awesome. You went above and beyond for us at our Wedding and all our guests were blown away."