Magician for hire for The Wirral
Top quality Magic for all occasions. Magician for hire for The Wirral.
MAGICIAN FOR HIRE FOR THE WIRRAL



Mister Ree has been on magic circuit for almost 26 years, performing countless at all sort of events. Whether you're getting married, celebrating your milestone birthday or your business need quality entertainment, Mister Ree has priceless experience to do you proud.
Pete is a people's person, he has a nice way about him, a good presence which makes him popular choice when hiring a magician. Pete has a sense of humour, so he will throw some of his natural humour to make his brand of magic fun and entertaining. Your guests will be amazed with Pete's magic, you only have to look upon the gallery and see the reaction of the faces of his punters. Having fun at your party is priceless.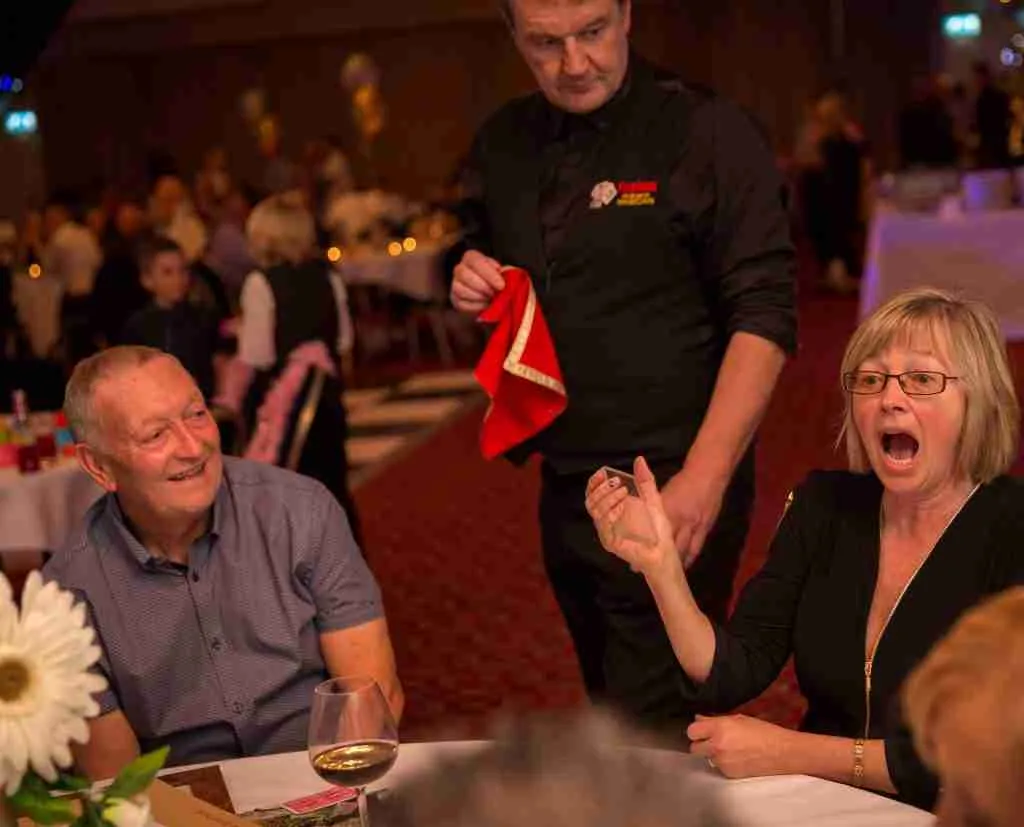 MAGICIAN FOR HIRE FOR THE WIRRAL
CONFIDENCE TO DELIVER TOP QUALITY MAGIC AT YOUR SPECIAL OCCASION OR EVENT

They say a face paints a thousand words, you only have to look upon the gallery to see the expression from his punters in the two decades has performed his magic. Pete also loves his work and he brings that passion to your special occasion, making his magic shine. If you want more details, give magician Pete Turner a ping or simply call him on 07906 326 377, as he would be delighted to have a chit chat and help you.
Hire Pete as your magician in The Wirral and Ellesmere Port area.
Leverhulme Hotel
Thornton Hall
Leasowe Castle
The Mecure Hotel
Poulton Hall Courtyard
plus many more
We love to hear how the magic made you feel !
Have a listen to the feedback for Cheshire magician Pete Turner who travels up and down the UK entertaining guests.
"Pete did my daughter's milestone birthday event proud; all my guests enjoyed his amazing magic."
"Pete Turner was great at our wedding. He took the pressure and the worry from us by looking after our guests with his amazing magic."
"Pete, you were awesome. You went above and beyond for us at our Wedding and all our guests were blown away."
"Pete's skills & professionalism really shone at our Wedding. He shows humour and charm in his delivery, making his magic more entertaining."