MAGICIAN FOR HIRE IN BURNLEY



Close up Magician Pete Turner has his own brand of magic that works. Amongst the years of a professional magician, Mister Ree has tailored the right can of magic to suit the nature of your event or special occasion. His knowledge and skills on the Art of Magic is performed at a very high level with his sleeves up, making his magic shine on all levels.
Mister Ree performs his magic with charisma and personality making his magic very entertaining. He has a good presence about him, making punters or guests feel relaxed and comfortable in his company. Pete has valuable experience to click with people and deal with the banter and the heckling that is part and parcel as a magician.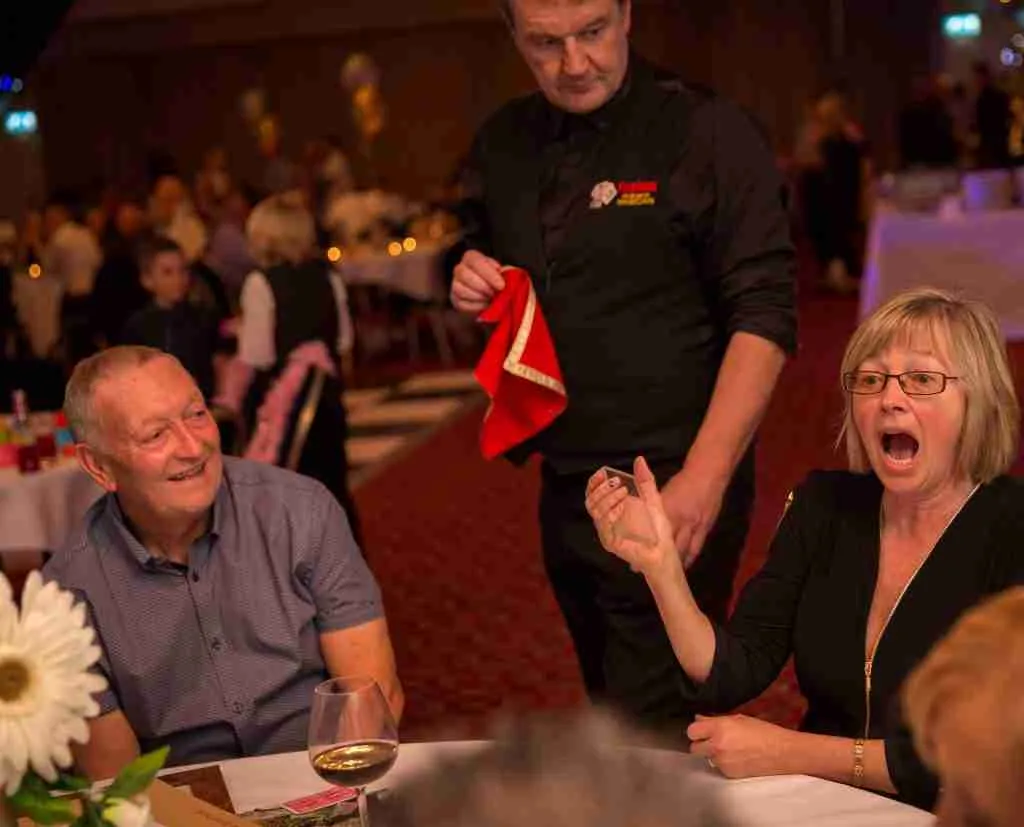 MAGICIAN FOR HIRE IN BURNLEY
CONFIDENCE TO DELIVER TOP QUALITY MAGIC AT YOUR SPECIAL OCCASION OR EVENT

MISTER REE has the confidence to deliver what you require at your special occasion or special event. You only have to look at the reaction of his punters in the gallery to give you an idea the joy that Pete the magician brings to your event. If you want to have a chit chat to Mister Ree regarding a magician at your event, he will advise how to maximise a magician at your event in the Saint Helens area.
Click on the Gallery and see the reaction of guests and punters who have experience Pete's magic. This reaction creates that magical buzz at your special occasion or event which ignite that friendly atmosphere.
Hire Pete as your magician in the Burnley area.
Pete has worked at all kind of venues in the Burnley, Nelson & Coln area such as Rosehill House Hotel Burnley.
Mechanics Theatre, Burnley
Thatch & Thistle Pub, Nelson
Nelson Cricket Club
Rosehill House, Burnley
Moorehouse Brewery
plus many more venues in the Burnley area.
We love to hear how the magic made you feel !
Have a listen to the feedback for Cheshire magician Pete Turner who travels up and down the UK entertaining guests.
"Pete, you were awesome. You went above and beyond for us at our Wedding and all our guests were blown away."
"Pete did my daughter's milestone birthday event proud; all my guests enjoyed his amazing magic."
"Pete Turner was great at our wedding. He took the pressure and the worry from us by looking after our guests with his amazing magic."
"Pete's skills & professionalism really shone at our Wedding. He shows humour and charm in his delivery, making his magic more entertaining."