MAGICIAN FOR HIRE IN LIVERPOOL

MISTER REE has the perfect brand of magic that is ideal to suit whatever your event or occasion is. Close up magician Pete Turner performs a very high standard of magic which will beat the sceptics and the non-believers of magic in the Liverpool area. To add to the flavour, Pete will put his sharp humour into his magic, making his magic more entertaining and most importantly guests will feel relaxed in his company.
If you click on Gallery, you can see the many events that professional magician Pete Turner has performed at. You only need to look upon the faces in the images to see how amazed they look with Pete's brand of magic. Making the impossible happen in a logical world is a great tool of entertainment to ignite atmosphere, creating that buzz at your special occasion.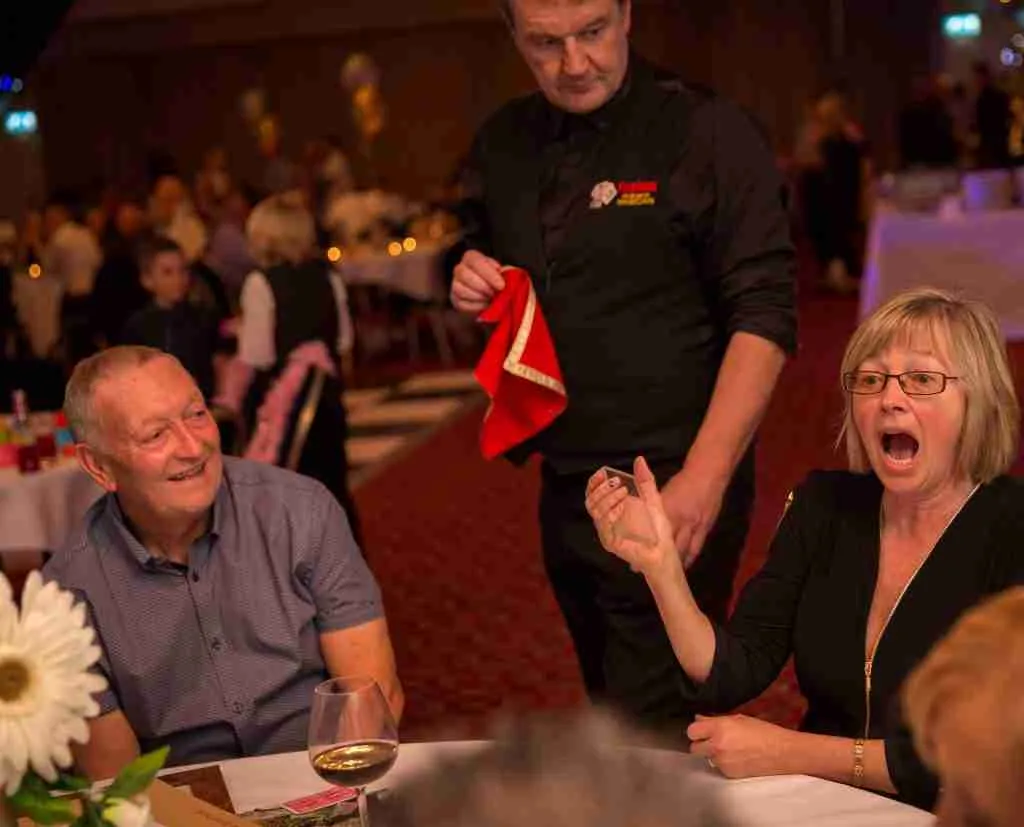 MAGICIAN FOR HIRE IN LIVERPOOL
CONFIDENCE TO DELIVER TOP QUALITY MAGIC AT YOUR SPECIAL OCCASION OR EVENT

Mister Ree unique brand of magic is well varied to accommodate everyone's taste in magic. Pete performs classic card magic, read you mind, does close up illusions or simply fun magical capers. Pete can turn his format of magic into close up table magic or cabaret stage magic in the Liverpool area.
Hire Pete as your magician in the Liverpool area.
Pete has worked at all kind of venues such as
Titanic Hotel
Liverpool Adelphi Hotel
Crown Plaza
Hard Days Night Hotel
Liverpool Maritime Museum
Liverpool Jury Hotel
Alicia Hotel, Sefton
Isla Gladstone Conservatory
Liverpool FC
Everton FC
We love to hear how the magic made you feel !
Have a listen to the feedback for Cheshire magician Pete Turner who travels up and down the UK entertaining guests.
"Pete, you were awesome. You went above and beyond for us at our Wedding and all our guests were blown away."
"Pete Turner was great at our wedding. He took the pressure and the worry from us by looking after our guests with his amazing magic."
"Pete's skills & professionalism really shone at our Wedding. He shows humour and charm in his delivery, making his magic more entertaining."
"Pete did my daughter's milestone birthday event proud; all my guests enjoyed his amazing magic."