Magician for hire in North Wales
Top quality Magic for all occasions. Magician for hire in North Wales
MAGICIAN FOR HIRE IN NORTH WALES



What makes Mister Ree a popular choice when hiring a magician in the North Wales regions, he is definitely a character. He uses natural humour with the brand of magic he performs. Also, he has very good peoples management skills, dealing with all kind of characters and sceptics. Pete's magic does all the talking, he can make something disappear in front of your nose and before you know it, it will re-appear in your wallet or purse.
If you do hire Mister Ree, not only will you get quality magic, but you're getting a magician who knows how to approach your event in professional manner. He knows his timings to strike, when to stop and move on to another crowd. Also he senses the punters who may not like magic and deals with the situation in a professional way. The Foxx has the experience to tread in the right places and make your special occasion a success.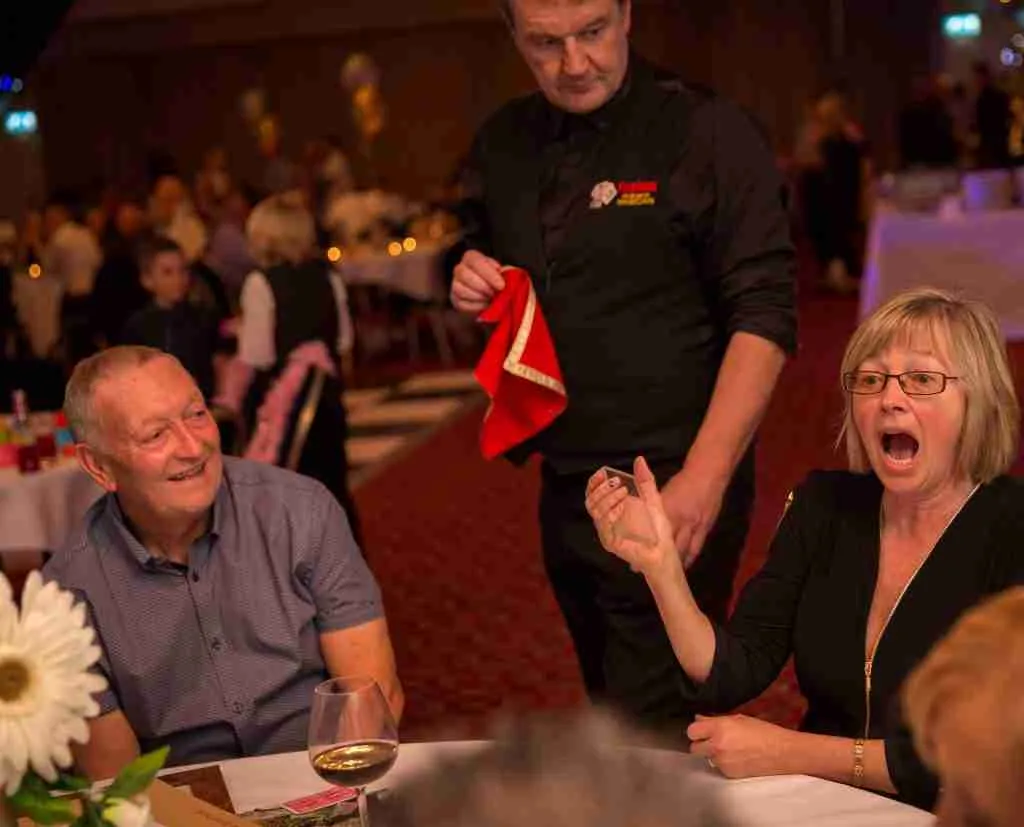 MAGICIAN FOR HIRE IN NORTH WALES
CONFIDENCE TO DELIVER TOP QUALITY MAGIC AT YOUR SPECIAL OCCASION OR EVENT

Look upon the gallery and see images of Mister Ree in action. People's reaction to Pete's magic paints a thousand words. If you scroll down, there is a collection of video feedback.  If you require more details or simply want a chit chat to Pete, ping or call him and he will well help and advise you to make your event or special occasion a success. 07906 326 377 or 01925 456443.
Hire Pete as your magician in the North Wales regions.
Tower Hill Barns – Llangollen
Merion Hotel – Llandudno
Beautort Hotel – Mold
Northrop Hall
Soughton Hall
Plus many more venues in the North Wales regions
We love to hear how the magic made you feel !
Have a listen to the feedback for Cheshire magician Pete Turner who travels up and down the UK entertaining guests.
"Pete, you were awesome. You went above and beyond for us at our Wedding and all our guests were blown away."
"Pete did my daughter's milestone birthday event proud; all my guests enjoyed his amazing magic."
"Pete Turner was great at our wedding. He took the pressure and the worry from us by looking after our guests with his amazing magic."
"Pete's skills & professionalism really shone at our Wedding. He shows humour and charm in his delivery, making his magic more entertaining."