MAGICIAN FOR HIRE IN STAFFORD



Professional Magician Pete Turner has the personality and the charisma to make his magic shine and entertaining. His magic has described as addictive, where punters can't get enough of Pete's magic. Mister Ree has specialise management skills to deal with all kind of characters and sceptics. He welcomes the banter, creating that warm relaxing atmosphere that is often required at special occasions.
Close up magician Pete Turner has been in the entertainment industry long enough to know his costing, therefore Pete will give you a good rate that is affordable. Mister Ree has a trust system that requires no deposit, so the booking system when booking Pete Turner is user friendly.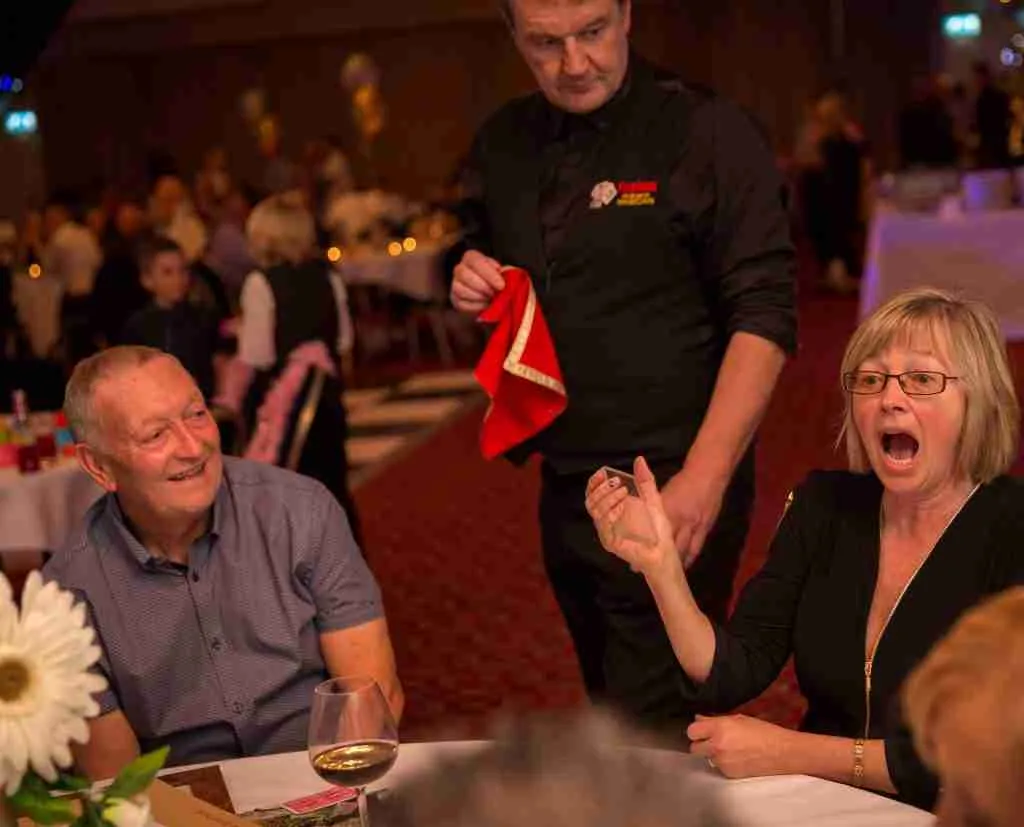 MAGICIAN FOR HIRE IN STAFFORD
CONFIDENCE TO DELIVER TOP QUALITY MAGIC AT YOUR SPECIAL OCCASION OR EVENT

Mister Ree can deliver many format of magic, such as cabaret magic, small magic show production, idea for house parties, and if your event is a bit formal, Pete Turner can do fascinating lectures as an After Dinner Speaker. Have a look upon gallery and see the reaction of his punters from a history of images.
Hire Pete as your magician in the Stafford area.
Pete has worked at all kind of venues in the Stafford and surrounding areas areas such as
Sandon Hall
Weston Hall
The Moat House Hotel
The Black Lion (Leek)
Alsager Golf Club
Frowell Hall
Plus many more venues in the Stafford & Stole on Trent areas
We love to hear how the magic made you feel !
Have a listen to the feedback for Cheshire magician Pete Turner who travels up and down the UK entertaining guests.
"Pete, you were awesome. You went above and beyond for us at our Wedding and all our guests were blown away."
"Pete's skills & professionalism really shone at our Wedding. He shows humour and charm in his delivery, making his magic more entertaining."
"Pete did my daughter's milestone birthday event proud; all my guests enjoyed his amazing magic."
"Pete Turner was great at our wedding. He took the pressure and the worry from us by looking after our guests with his amazing magic."