MAGICIAN FOR HIRE IN WIGAN



The Foxx has a successful brand of magic that is tailored to suit the nature of your special occasion or event. Pete's material is performed at a very high standard, with his sleeves up that makes his Art of Magic shine with amazement. From classic card magic to close up illusions, The Foxx has a mix bag of amazing material that will get the jaws to drop from your guests.
Professional Magician Pete Turner has been in the entertainment business long enough to know about costing. He will give you a realistic and affordable rate, making The Foxx a popular choice in hiring a magician in the Wigan and surrounding areas.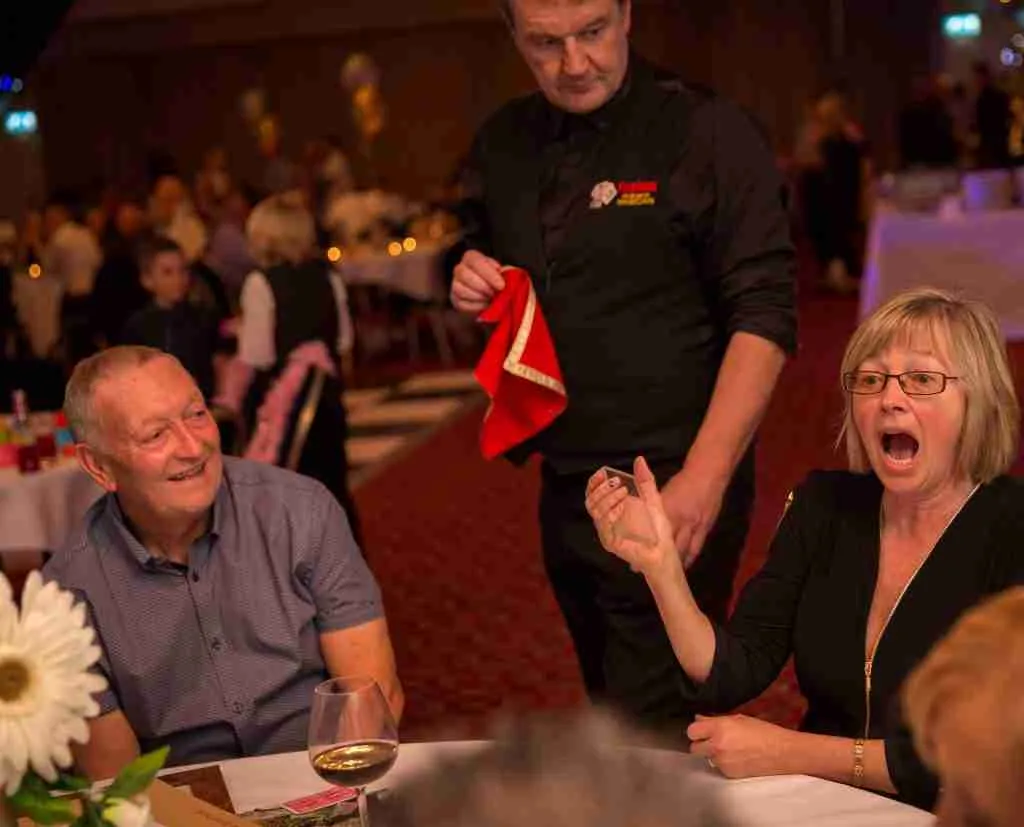 MAGICIAN FOR HIRE IN WIGAN
CONFIDENCE TO DELIVER TOP QUALITY MAGIC AT YOUR SPECIAL OCCASION OR EVENT

The Foxx has the confidence to deliver top quality magic at your special occasion or event. You will get a magician with 26 years of experience walking into your event to tick your boxes. Have a look upon the gallery; there are many images of The Foxx performing magic past & present. They say a reaction paints a thousand words. Magician for hire in Wigan
Hire Pete as your magician in the Wigan area.
Close up table Magician Pete Turner has performed his amazing magic in top venues in Wigan & Chorley such as
Britannia Wigan Hotel
JJB Wigan Sports Stadium
MacDonald Kilhey Court
Ashfield Country House Hotel, Wigan
Heskin Hall, Chorley
The Bellingham Hotel, Wigan
plus many more.
We love to hear how the magic made you feel !
Have a listen to the feedback for Cheshire magician Pete Turner who travels up and down the UK entertaining guests.
"Pete's skills & professionalism really shone at our Wedding. He shows humour and charm in his delivery, making his magic more entertaining."
"Pete, you were awesome. You went above and beyond for us at our Wedding and all our guests were blown away."
"Pete Turner was great at our wedding. He took the pressure and the worry from us by looking after our guests with his amazing magic."
"Pete did my daughter's milestone birthday event proud; all my guests enjoyed his amazing magic."